Five days into the war and it's a wasteland out there of cheap crap from China blessed by Santa Jesus and the holy spirit of Wall-Martus. The only path to salvation is through a minefield of screaming brats, stressed out and broke parents, jaded gift buyers, and the poor who can only stare wistfully in the toy store window as they lust in their heart for Saint i-Crap.
So quick! Put on those robes, grab your ass and head on down to Bethlehem Motors where Jesus Wagons are going for astonishing year end prices. Don't be stuck hauling your ass through the desert heat when you can drive in air-conditioned comfort in your 20ll Jesus Shaggin' Wagon.
Those mangers fill up fast this time of year so don't get left out in the cold. Come on down to We FleeceEm Mobile Sheep/girlfriends built especially for those in need of something to confess so you can be absolved of any personal responsibility or responsibility for your actions. This week only you can kill someone and get immediately absolved and forgiven. But act now because this deal is only good for the Christmas season when it's all about Jesus being the reason for the season.
We knew it had to be someone's fault, didn't we? No one could come up with this pile of crap on their own. Jesus is the reason for the season. Don't forget now...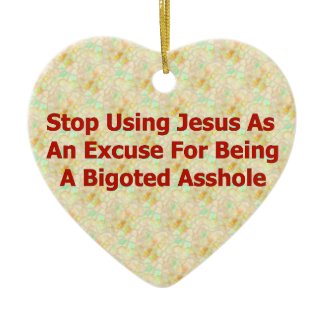 Bigoted Assholes
by
godless_heathen
Design a
custom photo ornament