The thing about religion and its Borg-like followers is that compromise or tolerance is nowhere in their version of the Bible, so they eventually turn on each other like a pack of inane nonsense spouting hyenas. They realize there's not much new room at the top if you're looking to raise some of those tax free jeezus bucks before the suckers catch on, so when they see someone sneaking up on them, look out feeding frenzy enthusiasts, the show is about to begin.
This is what is currently going on between the Baptists and the Mormons.
"I think the decision for conservative Evangelical Christians right now is going to be, do we prefer somebody who is truly a believer in Jesus Christ or somebody who is a good moral person but is a member of a cult?

And it's not politically correct to say but it is true, Mormonism is a cult.

"
"...
Dr. Robert Jeffress, a Dallas pastor and leader of the Southern Baptist Convention
Read More
When you have two of the biggest cults saying to each other, you're a cult, no you're a cult, then you know you've entered Beavis and Butthead territory, and because there's politics involved, it's going to enter realms not even the hyenas want to claim. But you see, it's like stink on shit. Once it's on you, it's on you. Good luck trying to rub it off on someone else, like say...the Catholic Church that considers both of these asshat cultists as total amateurs when it comes to raking in the bucks and spreading the bullshit thick and deep.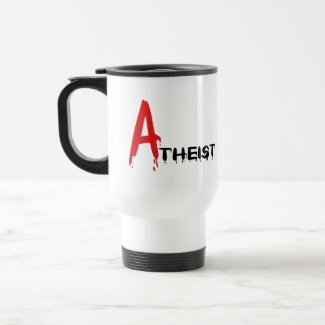 Scarlet Atheist
by
godless_heathen
Create
cheap personalized beer mugs
onzazzle.com